Bare with me...photobucket is acting cuh-ray-zee at the moment. Hopefully it doesn't mess with the ability to view this photo.
This is my 2nd "what's in my bag?" post. I chose to do this post because I had to show you the nifty-awesome bag I won in a giveaway from Orchid Grey. The bag came from Pulp Vintage, an awesome vintage etsy shop that I'm totally in

♥

with.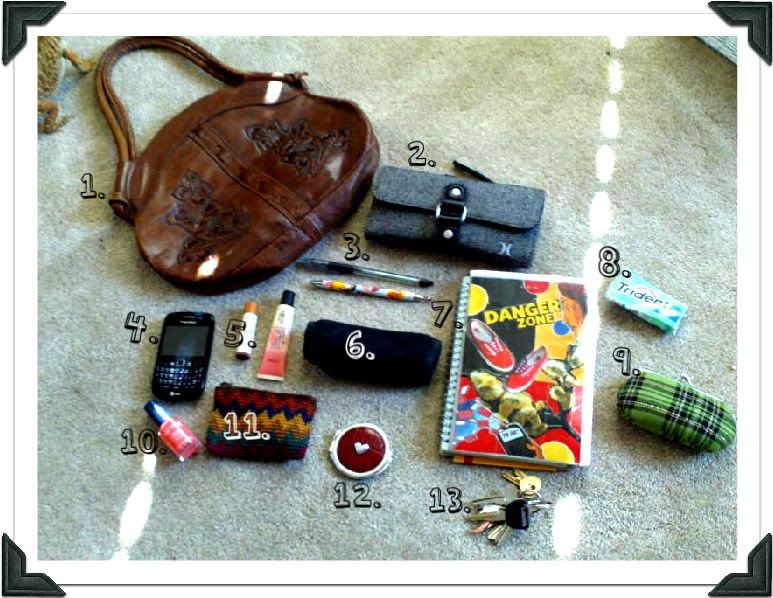 1. Pulp Vintage leather purse
2. Hurley wallet my brother gifted me
3. Pens...my favorite one is the multicolored on the bottom: came from Borders & has cupcakes and little girl things on it.
4. Blackberry mt sister in law gave to me
5. Arbonne chapstick and Bath & Body Works pomegranate lemon lip gloss.

♥
6. Uhm, girlie stuff bag. Just the right size for taking to the bathroom while at work...rather than taking your entire purse and looking so obvious.
7. My life...this calendar has gone everywhere with me since last summer--I'll have to say goodbye to it forever beginning in July. It's being replaced.
8. Trident sugar-mint gum. At least I think that's what the flavor is called. I can't remember and don't have my purse near me at the moment. I know. I'm totally lazy.
9. Little change pocket that carries my work keys and USB's for school.
10. Why is this in my purse? I guess I was in a hurry...coral-ish colored NP...I added sparkly pink NP to it the other day because for some reason I have two of the same color and decided I wanted it to be slightly different. I'm thinking about adding some pale pink or white NP to it to make it a bit lighter/creamier looking. What do you think?
11. My favorite change purse--that actually houses change. I got this in San Diego a couple of years ago when we went to old town for my b-day in November. I love stuff like this. Fun, Fun!
12. Brighten pocket mirror that my mother in law gifted me. I love this! So pretty and handy.
13. My keys--car, house, storage, and many other keys that I don't recognize. I have no idea what they belong to--but I'm afraid to take them off of my keyring for fear that I'll actually need them.
Your turn!
What's in your purse?