Yesterday was just weird--it SNOWED. Remember my post from last weekend? It was about 90-some' degrees and not a cloud in the sky. Yesterday dropped to freezing at about 1pm--what. the. heck.
Aside from the craziness that was the wheather, I had a super cool day with my mom & sis.
First stop was Angelview...one of our local thrift stores that always has awesome things. I was on a mission to find a skirt (yes, I said skirt) for 2 weddings Cory & I are invited to.
Here's what I found:
and this little baby has pockets! I'm stoked! I think it was about $4--And I ordered some cute charcoal tights, as well as black tights from we love colors. One of the blogs I read suggested buying tights this sight. Since her name escapes me, I will get back to you on which blog it was. PROMISE.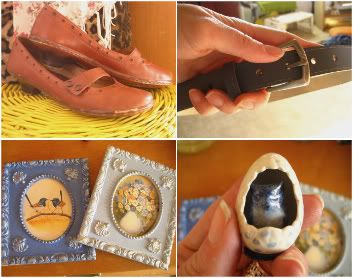 I also found these neat
mary janes for about $6,
gray belt for about $1, super cute framed cards for $.10/ea., and this adorable little egg owl for $.39! I got the framed cards for my mother in law and the little hooter is for moi. I put him in our bathroom ♥
After the thrifting we headed out to lunch at the C&S cafe. It's a family owned cafe in town that my mom & sis love.
Sorry I didn't get any photos of lunch or thrifting. The photos above are sort of after the fact. I was just so excited that I forgot to take pics.
After stuffing our faces and bellies with some chicken salad and soup we headed across the street to the check out the new vintage clothing store. It's only been open for a couple of weeks now and I've been dying to check it out. Again, sorry for not getting photos of the RAD merchandise and decor inside--i was just so excited! Here's the pics that I did get once I remembered I had my camera with me:

And this is what I walked away with:

This skirt is handmade--no tags or anything & it was $4.99! I freakin' love the funkyness of it. Gold and green are so perfect together and I couldn't resist the pattern.
I also found a super neat shirt--not vintage, but still very pretty. They look so similar--I guess when I see one thing I really like, I find others that seem to resemble it.
Maybe this is why I have so many things that don't match, lol.
3 shops down from the Vintage place is the local Candy shop which is also fairly new in YV. We had to check it out--even though I'm not a huge candy fan there is just something so inviting and darn near seductive about cotton candy colored stripes and the fantasy-like colors of candy stores. I have to say I was a tad bit disappointed at the chocolate selection. Although I'm not sure what exactly I expected in the first place. Most of their non-prepackaged candy that you can throw in a bucket to make your own 1 lb bag is salt water taffy. Salt water taffy is delicious but it kills my teeth. I love the feel of the candy store and all the super cool candy bars you can't get anywhere else in town but I thought there would be much more of a variety to mix & match.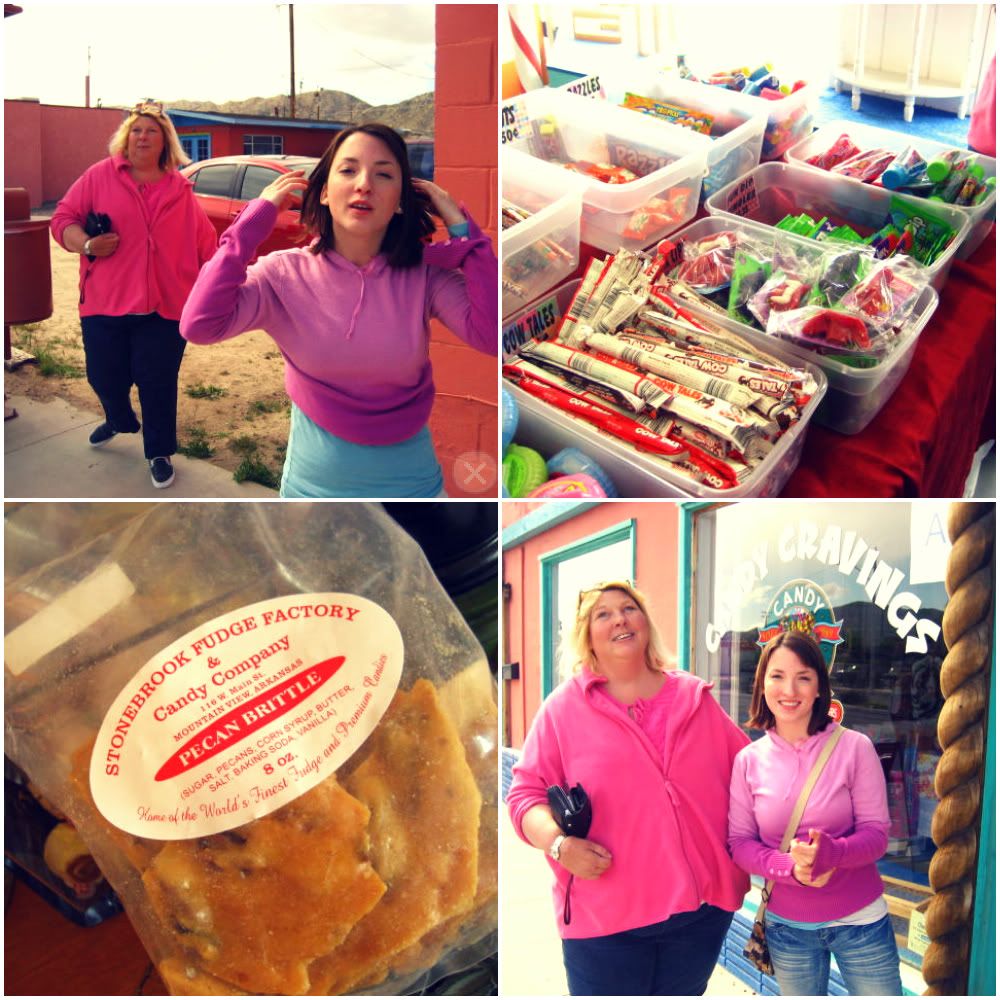 Haha! My mom never gives me a good smile--she always ends up giving me a weird smirkish grin. Oh! And this pecan brittle is the BEST brittle anything I've ever tried. If you ever get the chance to try pecan brittle, do not pass it up. Unless of course you are allergic to nuts--then i highly reccomend you find something else to satisfy your sweet tooth.
Near then end of the day we headed off to the bookstore. I found 2 horrific true crime novels I'm anxious to delve into. One is on Ted Bundy, and the other I can't really memember except that it's about something terrible that happens to a family and one of the victims was "Miss Fallbrook" back in like the 70's or 80's and Fallbrook is where I was born and lived until about the 6th grade. Originally I was looking for the third Steig Larsson book but I figure I can buy that later--since I've got so many books to read at the moment.
That was my Saturday, I'm sorry this post was so long winded. I promise I'll have a super short one next time, lol.
Hope you all had an awesome weekend!